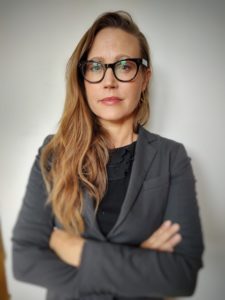 Gry Hasselbalch
Ph.D., Author and Scholar, and Co-Founder of DataEthics
Gry Hasselbalch is an author and scholar with expertise in data and AI ethics and governance. She is the Senior Key Expert for the EU's International Outreach for a Human-Centric Approach to Artificial Intelligence initiative overseeing the research and evidence base and supporting the European Commission in engaging with international partners on regulatory and ethical matters.
With a career spanning two decades, she has played a crucial role in shaping core global policy documents and discussions particularly on AI and data. Notably, she was a member of the EU's High-Level Expert Group on AI (2018-2020) that developed the EU's AI ethics guidelines that significantly contributed to the AI Act. Furthermore, she is one of the members of the working group that developed and are now implementing the EU-US Technology & Trade Council Joint Roadmap on Trustworthy AI and Risk Assessment. Gry is appointed member of the Nordic Ethical AI Expert Group established in 2023 by Nordic Innovation, an organisation under the The Nordic Council of Ministers and The Nordic Council to develop a common vision and roadmap for ethical AI in the Nordic region. She was also a member in the previous Danish government's Data Ethics Expert Committee and is currently a member of Bayer's Bioethics Council on Human Health, focusing specifically on AI.
Gry is the Co-founder and Director of academic research at the think tank DataEthics.eu, which has been active since 2015 in challenging the power dynamics of big tech companies. She founded the Data Pollution & Power initiative at the Institute for Science and Ethics, University of Bonn. Prior to her current roles, Gry spent a decade running the Danish national awareness center on youth online protection and empowerment, where she actively contributed to discussions at UN Internet Governance Fora (IGFs) and founded the Global Privacy as Innovation Network.
In her work she advocates a humanistic approach to AI and data. She holds a PhD in data ethics and power from the University of Copenhagen. She has authored several influential books and reports, including Data Pollution & Power – White Paper for a Global Sustainable Development Agenda (Sustainable AI Lab, Bonn, 2022), Data Ethics of Power – A Human Approach in the Big Data and AI Era (Edward Elgar, 2021), and Data Ethics – The New Competitive Advantage(Publishare, 2016). Her next book Human Power – a Technology Politics for Humanity is planned for publication in 2024.