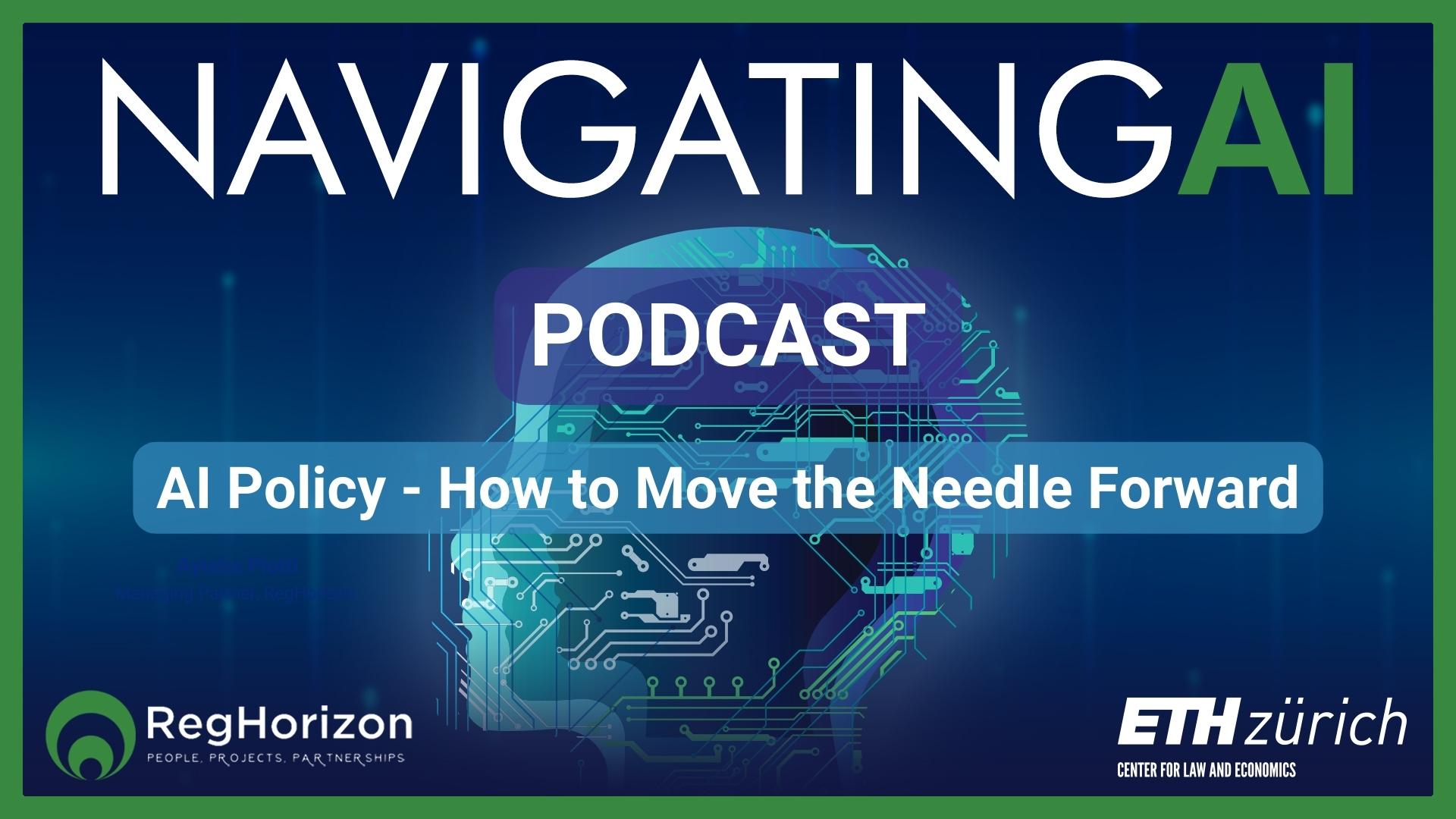 Navigating AI, a podcast on How to move the needle forward in AI Policy
Navigating AI is a podcast facilitating a diverse exchange of views on the topic of Artificial Intelligence policy in order to ensure that all our voices are heard.
On this podcast, we speak to experts from different walks of life to discuss what opportunities AI is bringing to us and what risks we need to manage.
Our focus is on Innovation in Policy and Governance
We survey the globe for inspiration, best practices, and success stories on how to build trust through effective governance, and how to accelerate the adoption of AI for a better world.
We take our listeners up close and personal with global policymakers, business leaders, top-notch academics, civil society advocates, and inventors to hear first-hand about their big wins and their suggestions for
NAVIGATING the future for our next generations.
Join us to broaden your understanding and learn how to become an active contributor to the Global AI Policy debate.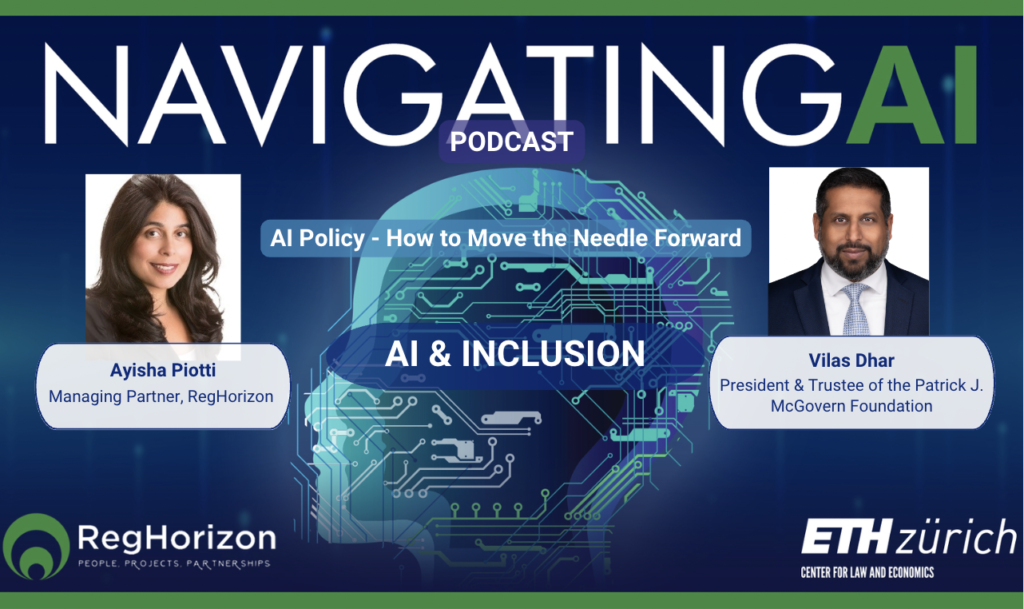 EP03: AI & Inclusion
October 2023
In this episode of Navigating AI, we're joined by Vilas Dhar, President of the Patrick McGovern Foundation, a leading global voice on equity in a tech-enabled world.
Trained as a computer scientist, lawyer, and policy expert, Vilas gives a critical overview of where we stand, as a society, in terms of AI and how we can collectively build technology for purpose and not just for profit.
You will learn about why and how we can include civil society not only in the AI conversation but also in developing AI solutions.
TUNE IN as this episode covers many other topics including digital literacy, education of policymakers, public funding for AI Initiatives, and reframing of the public conversation away from a fear-based mindset to a nuanced and generative one!
Full Bio – Vilas Dhar, President of the Patrick McGovern Foundation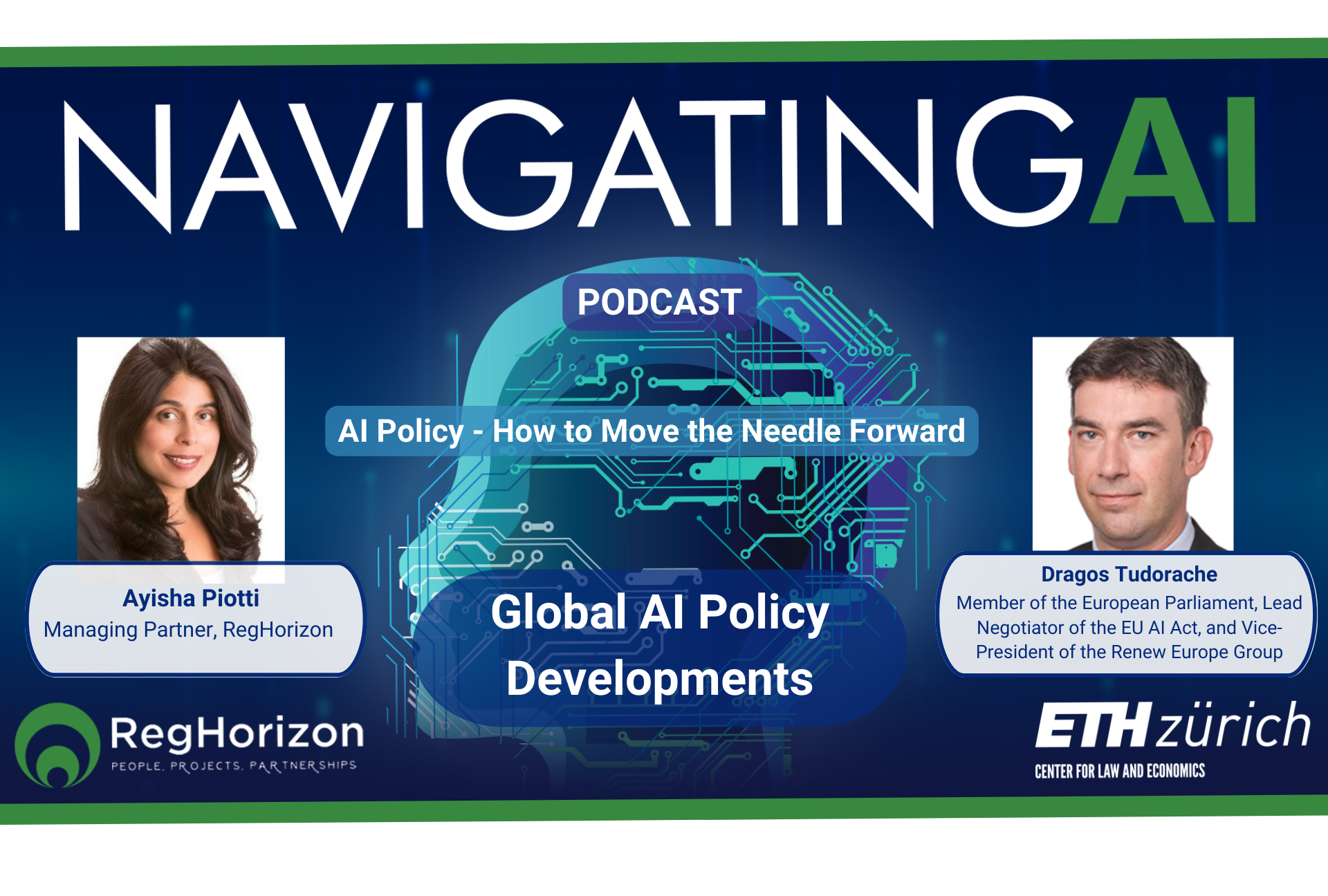 EP02: Global AI Policy Developments
August 2023
In this episode of Navigating AI, we are joined by Dragos Tudorache, Member of the European Parliament, Lead Negotiator of the EU AI Act, and Vice-President of the Renew Europe Group. We discuss the EU Parliament's recently approved draft EU AI Act, its geopolitical significance, and its impact on competition. Dragos lifts the curtain on the main differences between the US and EU in terms of approach to AI regulation. We explore questions such as:
What do governments need to urgently do to prepare for effective implementation and enforcement of the EU AI Act?
What is the way forward to get global policy convergence?
What role can global standards organizations and private industry play to achieve this?
The episode also includes a sneak preview of what is coming next! Stay tuned! Dragos Tudorache, a Member of the European Parliament renowned for his instrumental work around the EU AI Act, the most comprehensive piece of proposed legislation on Artificial Intelligence to date. As a lead negotiator of the EU AI Act, he is extremely well-positioned to shed light on using policy as a tool to harness the potential of AI while ensuring its responsible and ethical use. Full Bio MEP Dragos Tudorache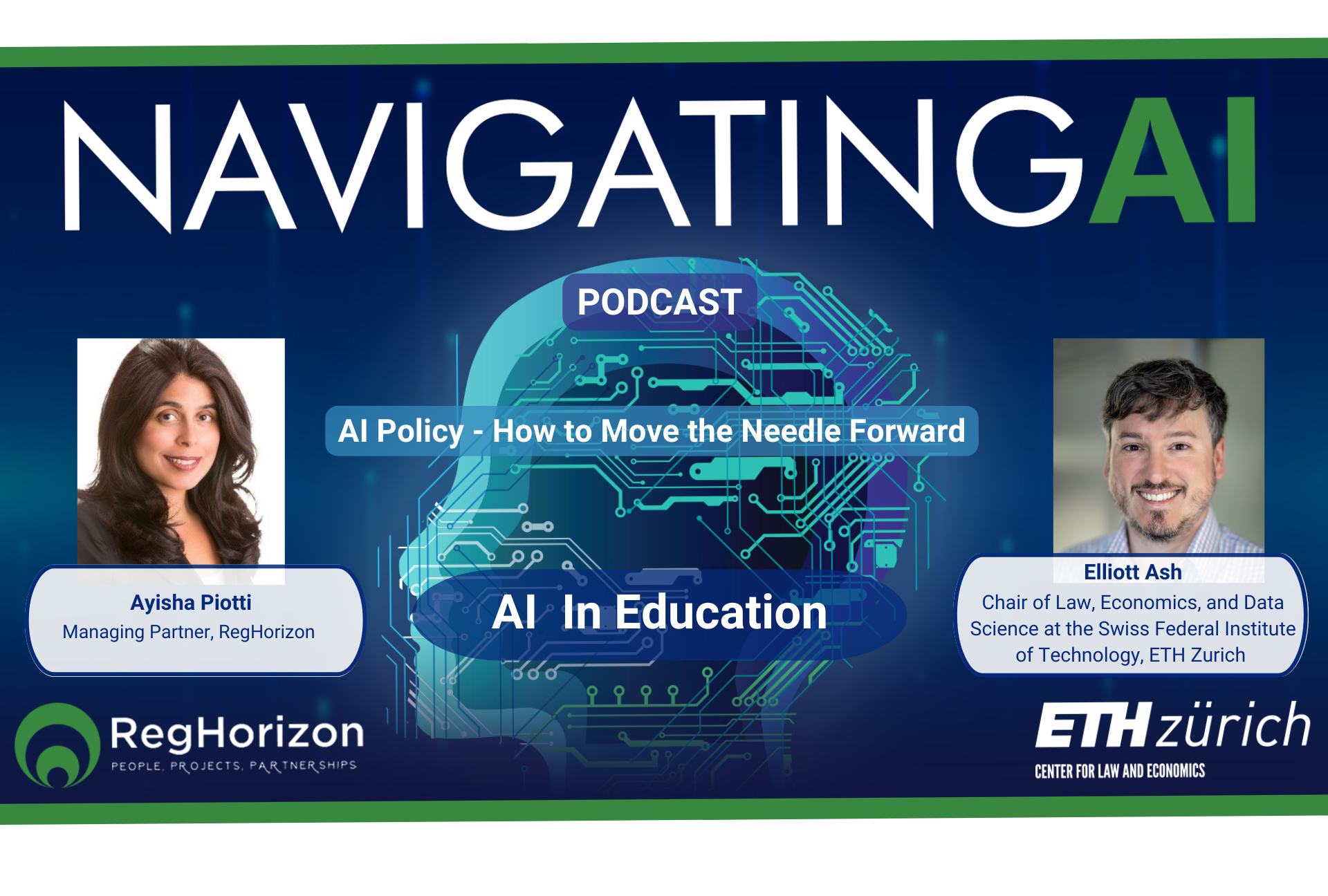 EP01: AI in Education with Prof Elliott Ash
June 2023
In this episode of Navigating AI, we're joined by Prof Elliott Ash, Chair of Law, Economics, and Data Science at ETH Zurich. Prof Ash shares his journey into AI policy and governance, where we explore the use of AI in education, and discuss the implications and the role academic institutions can play to help us find the right balance between the risks and opportunities of AI. 
In this episode, Prof Ash explains…
What is chat GPT? How does it work? How has it evolved more recently and what is the latest thinking about how it is transforming academia?
He discusses the role academic and  research institutions play to broaden the public debate, close the technical gap, and support policy making in AI.
The episode also has bonus insights regarding how AI is used in the justice system and how we as a society should prepare for its responsible adoption!
Prof Elliott Ash
,  Chair of Law, Economics, and Data Science at the Swiss Federal Institute of Technology, ETH Zurich.
Bio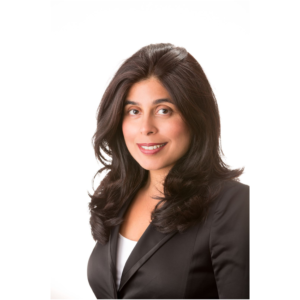 Ayisha Piotti  
Managing Partner at RegHorizon and Director of AI Policy at ETH Zurich Center for Law and Economics. Bio
Connect with Ayisha: 
RegHorizon in collaboration with the ETH Zürich Center for Law & Economics for the 2023 AI Policy Summit
RegHorizon and ETH Zürich Center for Law & Economics are proud to be the visionaries behind the Global AI Policy Summit, attended in 2022 by 82 countries spanning 6 continents. The Summit is a multi-stakeholder event where representatives from academia, businesses, NGOs, citizens, and policymakers from all over the world come together and discuss the implications of AI on society and policy, thereby forging strong inter-regional and inter-stakeholder connections, and building AI Policy together for a better world.
For further information on the 2023 event scheduled for November 3-4 and to get involved, visit us HERE.